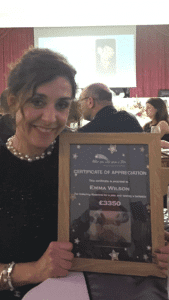 We believe that small acts of kindness can go a long way. We also believe that when we offer our support, we should dedicate ourselves to offer 110%. We would love to support every single charity however to keep our promise of dedicated support we nominate one charity per year. We like to join in raising funds where we can along the way, as we did with Wear It Pink in aid of Breast Cancer Research and National Christmas Jumper Day for St Andrews hospice.
Our nominated charity for 2015 was When You Wish Upon A Star, a charity making each day count for poorly children and their families. This is a charity we all hold close to our hearts upon seeing the amazing memories they create for these extremely unfortunate families.
For our main fundraising event this year we decided to use our Christmas Party for a better cause. We invited all our employees to donate per ticket to attend our event, all funded Allied Protek. Paul and his team organised a marquee within the Allied Protek workshop (they said we couldn't do it!) with food, drink and the best entertainment to ensure everyone had a brilliant night! The company also relied upon local businesses donating generous gifts for the raffle such as Grimsby Town Football Club, DFDS, The Comfy Duck, Daniella Draper and LCS; just to mention a few. It must be said that we were overwhelmed with the kindness and willing to help in aid of this wonderful charity. Paul Wilson , Managing Director said "We are so proud to be supporting When You Wish Upon A Star, I look forward to the total raised this evening. We have big plans for 2016, lets see 2015 out raising the most we have yet!"
By the end of the evening we were thrilled to announce that we raised over £3,000!!! We don't plan to stop there either; next year we will be nominating another unstoppable charity. We are keeping our promise.

With thanks to;
Kate Lister, The Business Hive, The Attic Spa, The Comfy Duck, Lincs FM, Chris Waud, Great Coates Motors, Paris Clothing, Grimsby Town Football Club, LCS, Daniella Draper, Think Bubbles, Guru, Beaverbrook's, Millfields Hotel, Beauty by Louise, Beauty at the Gate, DFDS, Jazz Clothing, Tesco Cleethorpes, The Farm House, Lincs Electrical, Stars and Stones, Aalco, MJ Wilson, Sainsburys and all the staff at Allied Protek who made the event possible and a huge success.